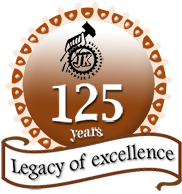 JK Organization
The J.K. Organisation was founded over 100 years ago by the Singhania family. From humble beginnings in India the JK group has prospered to become a global enterprise with operations around the world. Five generations later Mr. Abhishek Singhania Managing Director of JKT continues the proud business and ethical culture set forth by those before him.
Today the J.K. Organisation makes up one of India's largest conglomerates with an annual turnover exceeding US $ 4 Billion. The group is an association of over 40 companies, employing nearly
50,000 people worldwide in manufacturing, insurance, chemicals, healthcare, education, retail, software and IT services.
The J.K. Organisation has a pioneering history that has been at the leading edge of technology and change for many years. Throughout there have been some notable and innovative achievements, including:
1960 - first in the world to set up production of Hydrosulphite of soda by sodium amalgam process
1968 - first in India to manufacture TV sets
1977 - first in India to produce steel belted radial tyres
1984 - first in India to produce white cement through dry process
1989 - first in India to produce nylon tyre cord based on spin draw technology
The J.K. Organisation has a diverse range of business interest in many industry sectors from cement; automobile tyres & tubes; engineering; plastic processing; agrochemicals; cosmetics; audio & video; power transmission; electronics; petrochemicals; steel; pharmaceuticals; food & dairy products; power generation; synthetic fibre; paper; cotton; woollen and jute textiles, computer software and IT services and is at the leading edge and a household name in many countries.
J.K. Organisation, founded over 100 years ago, is an eminent industrial group in India. The Group has multi-business, multi-product and multi-location operations. The Companies in the Group manufacture and sell a large range of products with leadership position in several areas including Automotive Tyres and tubes, Paper & Pulp, Cement, V-Belts, Oil Seals, Power Transmission Systems, Hybrid Seeds, Woollen Textiles, Readymade Apparels, Sugar, Food & Dairy Products, Cosmetics, Clinical Research and IT Services.


The fact that business must be driven to achieve a more equitable society and its profits applied for greater common good, were values that were ingrained in us by our forefathers. This philosophy formed an important cornerstone of their endeavors. This is by far the most relevant asset that has allowed the J.K. Organization to sustain, grow and tied over difficult times, because of the goodwill, respect and love it enjoyed in society.