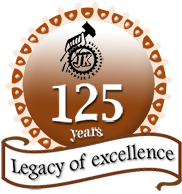 History
The foundation of J.K. Organisation was laid during turbulent times for the nation. It was the time when India was part of the then British Empire and the subsequent years of Independence and separation. Born on 7th November 1884, Lala Kamlapatji, the worthy son of Lala Juggilal Singhania, had the determination to lobby for more rights of his fellow countrymen and a vision to make Indian business self reliant. With this inspiration he set up the first cotton mill in northern India JK Cotton Spinning Mill in 1921, exclusively using Indian capital, management and labour. After this, many other enterprises were started. JK Jute Mills Co Ltd, JK Iron & Steel Co Ltd, JK Oil Mills, JK Cotton Manufacturers, JK Hosiery Factory (Calcutta), Motilal Padampat Sugar Mills, Kamla Ice Factory…. an empire was being created.
He founded the Merchants Chamber of Commerce of Uttar Pradesh, to act as a platform for the Indian industry to express itself. His philanthropic trait was reflected through a number of primary schools that he started all over Kanpur district. In 1937, he motivated his illustrious son Padampat Singhania to become a member of an elected United Province Assembly under the Government of Indian Act, 1935.
The JK Organization was founded over 100 years ago by the Singhania family. From humble beginnings in India the JK group has prospered to become a global enterprise with operations around the world.
Five generations later Mr. Abhishek Singhania Managing Director of JKT continues the proud business and ethical culture set forth by those before him.Today the JK Organization makes up one of India's" largest conglomerates with an annual turnover exceeding US $ 4 Billion. The group is an association of over 40 companies, employing nearly 50,000 people worldwide in manufacturing, insurance, chemicals, healthcare, education, retail, software and IT services.The JK Organization has a pioneering history that has been at the leading edge of technology and change for many years.
The JK Organisation has a diverse range of business interest in many industry sectors from cement; automobile tyres & tubes; engineering; plastic processing; agrochemicals; cosmetics; audio & video; power transmission; electronics; petrochemicals; steel; pharmaceuticals; food & dairy products; power generation; synthetic fibre; paper; cotton; woollen and jute textiles, computer software and IT services and is at the leading edge and a household name in many countries.